Your destination for world-class, unmissable experiences.
Ask almost any sports fan about Adelaide Oval, and you'll likely hear a common response – that this storied venue
is among the most picturesque anywhere on the planet. And yet it is so much more than a stadium.

Adelaide Oval stands as a perfect blend of modern facilities, timeless design and living history. Although renowned as
South Australia's home of major sporting and cultural events, Adelaide Oval hosts just over 35 game days and concerts a year.

It is a year-round tourism destination that attracts millions of visitors each year to its events and experiences including
integrated hotel, restaurants, RoofClimb, tours and functions facilities – all in the heart of the beautiful city of Adelaide.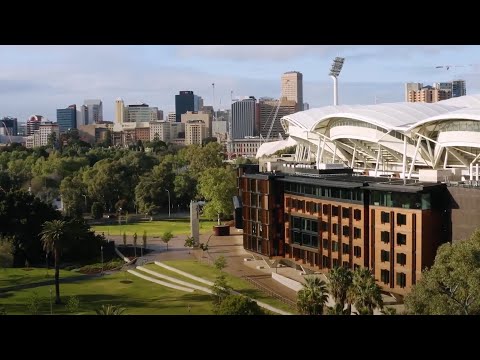 Oval Hotel
The only integrated hotel in the southern hemisphere
Opened in September 2020, Oval Hotel is seamlessly integrated with the eastern façade of Adelaide Oval making it Australia's first stadium hotel.
The boutique 138 room hotel is perfectly appointed with premium furnishings and finishes, providing guests with total luxury in a picturesque, central location. Guests are positioned within the surrounding heritage-listed parklands – both totally secluded and just minutes away from the vibrant Adelaide riverbank precinct and CBD.
Onsite restaurants Five Regions (two-hatted degustation restaurant looking into Adelaide Oval) and Bespoke Wine Bar & Kitchen (stylish lounge and dining space with a contemporary all-day menu) showcase world-renowned South Australian produce and wines.
Guests have access to 24-hour hotel services through their in-room digital compendium, with technology embedded throughout the guest experience. Oval Hotel is a complete destination for business and leisure.
Unique experiences
Explore above the stands and behind the scenes.
RoofClimb Adelaide Oval:
RoofClimb offers guests 360-degree views of the city of Adelaide and the iconic architecture of Adelaide Oval.
Specially trained RoofClimb leaders guide guests across the soaring stands of the stadium, ending on the Riverbank platform perched 50 metres over the hallowed turf. Sit in the world's first rooftop stadium seats, chasing the thrill of a 'lean out' and learn more about the beautiful city of Adelaide.
Stadium tours
Treat guests to a behind-the-scenes exploration of Adelaide Oval and the secrets and stories of this historic sporting ground.
Led by knowledgeable Adelaide Oval ambassadors, tours allow guests to access restricted areas, experience the roar of the crowd as they run up the players' race, and take a peek inside the iconic heritage scoreboard.
Incentives & Events
Tailored experiences for business and leisure.
The best part of having all these experiences at one destination? The Adelaide Oval team is passionate about bringing them all together to create memorable moments for our guests.
Adelaide Oval is home to 25 dedicated indoor and outdoor function spaces, perfect for groups of all sizes.
Our specialised culinary team creates bespoke dining experiences showcasing local ingredients, from canapes and live food stations to decadent sit-down dinners.
With inhouse AV capabilities and unique stadium extras (your name on the scoreboard or a custom lightshow, perhaps?), there's no limit to what we can create.
Our MICE offering is not confined to any one space or experience – plan an event of any kind across the venue, add tailored incentives or experiences, host guests at our hotel with thoughtful inclusions, and more.